Costa Rican Oasis
Unwind for a weeklong stay at Rancho Paloma Azul with ocean views and private pool
Soak in the sun with your 7-night, 8-day stay at this water-front oasis for up to 12 people at the south end of Playa Guiones in Nosara. Rancho Paloma Azul is on top of a small knoll, giving you stunning views of the ocean and the surrounding rainforest. You're a short four minute walk to the beach with your own private, palm-lined trail. During your stay, you can enjoy a sunset cruise traveling around the peninsula, taking in the ocean breeze and idyllic sounds of Costa Rica. On the night of your choice, a private chef will prepare dinner for you and your guests at the home. The perfect place to dine is the outdoor table on the open-air palapa style patio that's truly the heart of the home, complete with open kitchen, bar area, hammocks, and lounge day beds.
Package Includes
• 7-nights at Rancho Paloma Azul in Nosara, Costa Rica for up to 12 people
• Chef-prepared dinner in home on the night of your choice
• Sunset cruise
Package notes: this home comes with several luxury add ons that you can upgrade your experience with to make travel even easier for your group for an additional cost, including booking the private chef for multiple nights/meals, grocery delivery services to have the home stocked before your arrival, and entertainment options like in-home massages, snorkeling trips, or home concerts with local musicians. Booking is subject to availability and blackout dates may apply, including Christmas and New Year's Eve.
Thank you: Kristi and Blake Stanford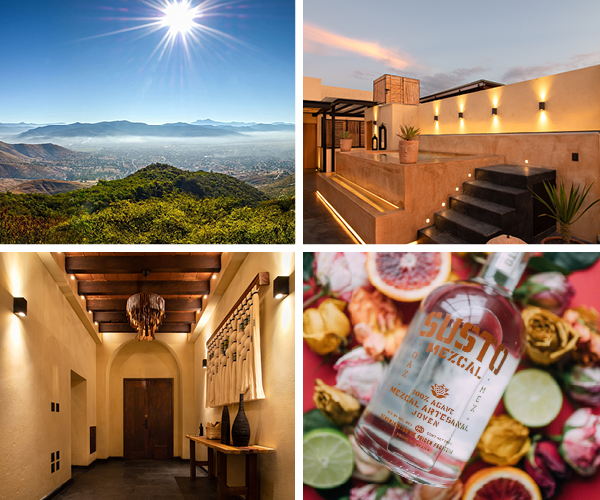 Explore the Mezcal and Eats of Oaxaca
Experience Oaxaca with a four-night stay, tours of SUSTO MEZCAL Palenque, and an authentic dinner at Casa Oaxaca
Settle in to your 6-bedroom escape at Casa Rufina, located in the historic center and oldest neighborhood of Oaxaca. This beautiful home is breathtaking with architectural design, light fixtures, and rooms thoughtfully designed as pieces of art. The jacuzzi and terrace will ensure your zen on this trip. While exploring the heart of Oaxaca, your trip includes a tour and tasting of SUSTO MEZCAL's mezcaleria curated by Crispin Perez, the mezcalero, at his palenque in San Dionsio Ocotepec, Oaxaca. After exploring and tasting the sweet and smokey notes from the mezcal, head to Casa Oxaca for an unforgettable dining experience. Chef Alejandro Ruiz's kitchen will enchant your palette with aromas and tastes using local ingredients, produce from their own garden, and a changing menu to celebrate the flavors of Oaxaca throughout each season.
Package Includes
• 4 nights at Casa Rufina
• Dinner for 4 at Casa Oaxaca
• Guided tour and tastings at SUSTO MEZCAL
Package notes: Must be booked Thursday-Sunday and is subject to availability. Trip must be taken by May 2025. The stay is for 4 people. Any additional guests must be approved by Casa Rufina. Tour and stay must be booked at least 60 days in advance.
Thank you: Susto Mezcal, Casa Rufina, Casa Oaxaca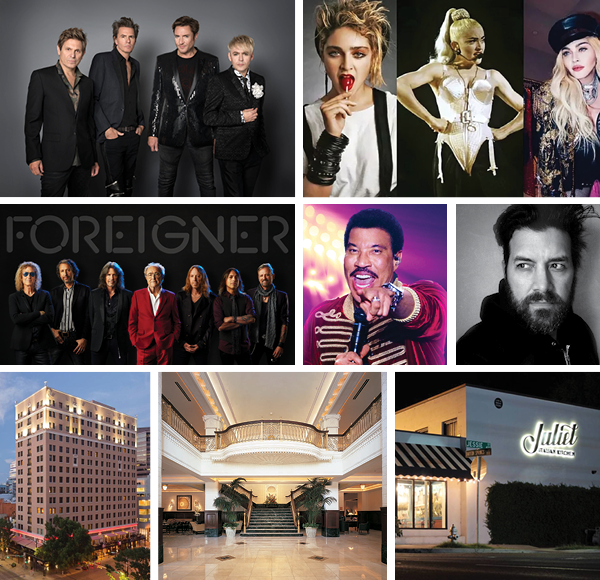 Music Extravaganza
Totally awesome prime seats for 5 concerts all year long with downtown stays at the Stephen F. Austin Royal Sonesta and a group dinner at Juliet Italian Kitchen
Keep the good times going all year long with four prime seats to some of the best shows of the year. Your group will have prime floor seats to see Duran Duran on June 6th, Foreigner on August 13th, Lionel Rtchie on August 29th, Madonna on your choice of September 21st or 22nd, and Bob Schneider's New Year Eve's Bash at the Paramount. After each show, skip the commute home with a relaxing stay at the historic Stephen F. Austin Royal Sonesta in the heart of downtown Austin. Relive the memories and talk about your favorite songs from each show over a delicious dinner for 10 at Juliet Italian Kitchen. With the most craveable antipasto, homemade pasta and desserts, the chef will introduce each course and their beautiful wine pairings for your celebratory meal – buon appetito!
Package Includes
• 4 prime tickets to Duran Duran at the Moody Center on June 6, 2023
• 4 prime tickets to Foreigner at the Moody Center on August 13, 2023
• 4 prime tickets to Lionel Ritchie at the Moody Center on August 29, 2023
• 4 prime tickets to Madonna at the Moody Center on your choice of September 21 or 22, 2023
• 4 prime tickets to Bob Scheneider's New Year's Eve Bash at the Paramount Theatre on December 31, 2023
• 5 nights at the Stephen F. Austin Royal Sonesta (one for each show)
•Chef's dinner for 10 with wine pairings at Juliet Italian Kitchen
Package notes: Hotel rooms are based on availability and must be booked in advance. Tickets to all shows are non-refundable and may not be resold or transferred without prior approval. Transportation is not included.
Thank you: Stephen F. Austin Royal Sonesta, Juliet Italian Kitchen and Moody Center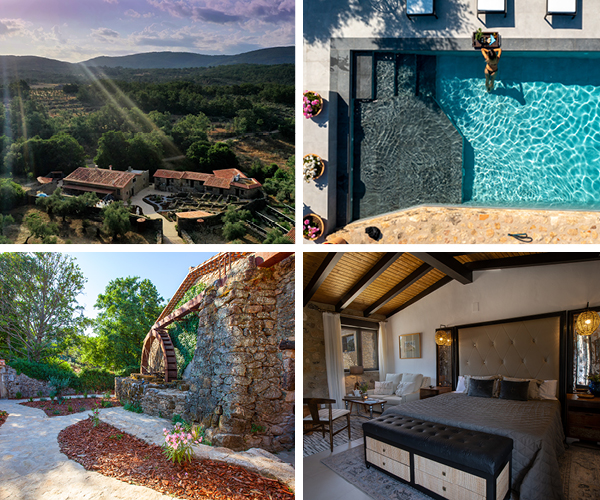 Historic Spanish Week-Long Adventure
Explore a Spanish olive oil vineyard with a 7-night stay at the Aqua Et Oleum – a historic olive oil mill
In Latin Aqua et Oleum means Water and Oil. Originally an old olive oil mill with a babbling brook, the Mill has been transformed into this luxurious destination boutique hotel and gallery. Situated in the middle of an olive grove and vineyard on the outskirts of Villamiel, this is the "real Spain" complete with multiple UNESCO world heritage sites surrounding the mill. Your group of up to 20 will have eight primary suites with breakfast and transportation to and from the Madrid airport included. You can walk through the olive oil groves, vineyard, or unwind by the pool in this breathtaking oasis in the heart of Spain. As you explore the area, there are wineries, many local restaurants, a 3-star Michelin restaurant, and on-site chef to help you plan the best eats. During your weeklong adventure, you will have a driver and bus 24/7 to take your group around all the best sites and nature.
Package Includes
• 7-nights at Aqua Et Oleum in Cáceres, Spain
• Up to 20 guests total
• Breakfast each morning
• 24/7 transportation for the whole group for the full stay
Package notes: subject to availability and some blackout dates apply including Easter Weekend, Christmas and the month of August. Must be booked by June 2025. There is an on-site chef that can work with you to prepare meals for your entire trip, picnics for excursions, and more for an additional cost.
Thank you: Kristi and Blake Stanford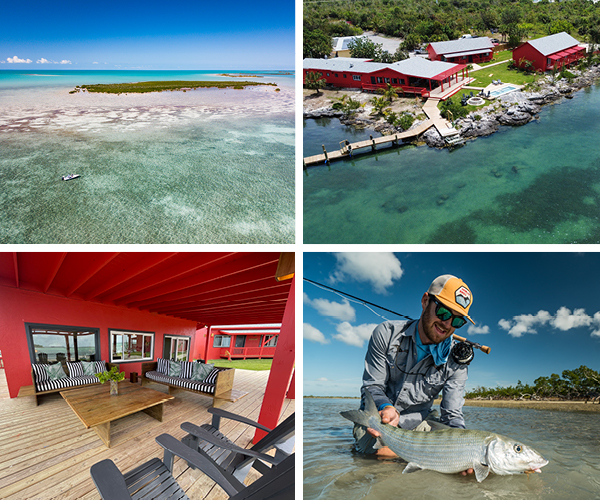 Fly Fishing in the Bahamas at a Waterfront Paradise
Take in the freshest eats, best drinks and ocean breeze with fly fishing and relaxation for 2 on Abaco Island, Bahamas
The bright, charming lodge welcomes guests with spectacular waterfront views. Enjoy a cold Kalik by the pool, or gather around the fire pit where, under a setting sun the day's fishing stories enter into island lore. This fly fishing trip for two includes meals beautifully prepared focusing on Bahamian specialties and fresh seafood. Beyond fishing you can also snorkel, kayak or dive in the crystal clear waters. The Abaco team will set you up for everything you need including drinks around the clock, picnic lunches and cold drinks in a YETI while you're out, cocktail hours in the afternoon, dinner each night, plus all the fishing equipment and gear with a guide. Your four day stay in this tranquil and tropical utopia, will leave you feeling blissful and refreshed with their five star service and the magic waters of the Caribbean.
Abaco's sheltered Marls region is peppered with unpopulated pine forest islands, mangrove cays, and a prodigious bonefish population. From Abaco Lodge's central location, we fish the Marls from as far south as Cross Harbour to its northern extremities off the west side of Treasure Cay. A twenty-minute skiff run due west puts anglers within striking range of the Marl's ocean-side edge. And from all points in between, Marls bonefish average 2 to 4 pounds. Larger fish in the 5 to 8 pound class, although fewer and harder to seduce, are also found in good numbers. Permit and juvenile tarpon shots are frequent enough that you should be prepared with gear for targeting both species, and barracuda, jack crevalle, plus various shark species also call the Marls home. But bonefish generally rule this kingdom thanks to an ideal mix of sheltered habitat and prime forage sources through the seasons.
Package Includes
• 3-nights / 4-days at Abaco Lode for 2 people
• Guided Fly fishing for 2 with loaner fishing equipment (rods, reels, lines)
• Fishing license
• Transportation between Abaco Lodge and Marsh Harbour Airport
• All meals and unlimited beverages
Package Notes: Subject to availability and blackout dates may apply. Airfare and transfer from Treasure Cay to the lodge are not included. Gratuity for staff is not included. Itinerary modifications may be made for additional costs.
Thank you: The Kautapen Group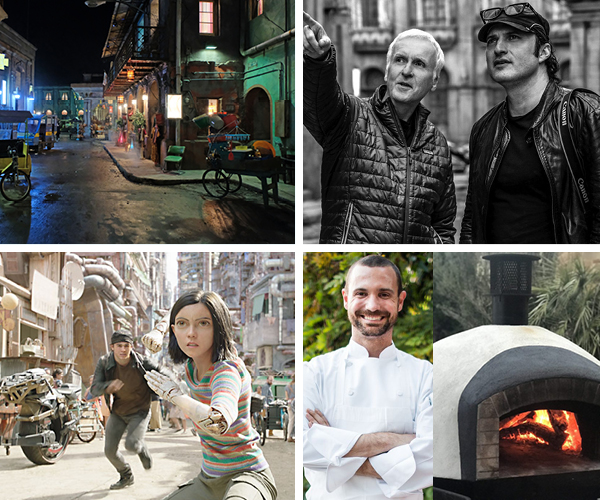 Buy in event: An Evening at Troublemaker Studios
Spend an unforgettable night at Robert Rodriguez's Troublemaker Studios with a private tour, fresh pizza & salad dinner, and drinks on the ALITA: BATTLE ANGEL set
Robert Rodriguez's team at Troublemaker Studios is welcoming up to 50 friends of the Paramount Theatre for an unforgettable evening at their full production studios. The night begins with a tour of the studio – where they produce everything on set from wardrobe, props, set designs, visual effects, and two sound stages. During the tour, you'll even learn how the props are made with examples from Rodriguez's recent projects. After the tour, head out to Iron City, for a Neapolitan inspired dinner with wood-fired pizzas by the backspace prepared on site along with antipasti and delicious libations all night. Iron City is the central set piece for 2019's feature film ALITA: BATTLE ANGEL directed by Robert Rodriguez and produced by James Cameron & Jon Landau. Iron City is set 600 years in the future. And in that future, Iron City is the last standing civilization in the world. Over 97,000 square feet, Iron City is the only permanent and functional studio backlot in Austin, TX. Raise your paddle to be one of the 50 guests to spend a magical night in one-of-a-kind and breathtaking set.
Package Notes: The dinner and tour is scheduled for Thursday, September 21, 2023. Transportation is not included. This is a "Buy In" package, so up to 50 individuals may raise their paddle to donate to secure their spot. Tickets may be transferred to someone else in advance of the event with approval by Paramount staff and Troublemaker Studios.
Thank you: Troublemaker Studios, the backspace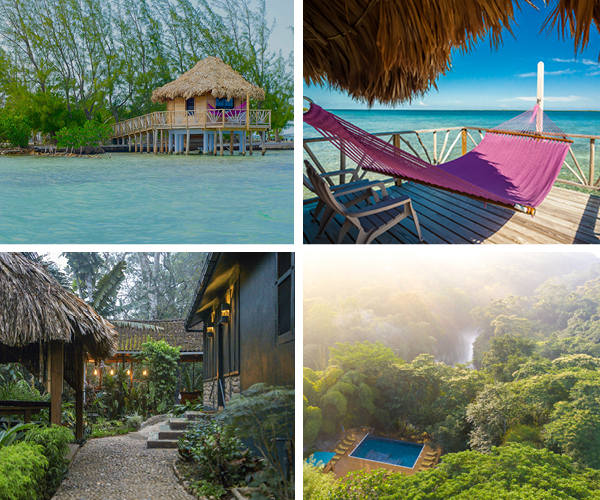 Belize's Sea to Tree 6 Nights In Belize
Experience the best of Belize with three nights on a private island and three-nights in the heart of the jungle
This six-night, all-inclusive stay for two is the perfect offering to experience everything that Belize has to offer. With the Sea to Tree package, guests will get to spend three nights on a private island at Thatch Caye and three nights in the Belizean jungle at Sweet Songs Jungle Lodge.
Thatch Caye is situated on its own 11-acre Caribbean island nine miles off the coast of Dangriga, Belize. The resort combines island adventure and beautiful ocean landscapes to create a memorable travel experience on the second largest barrier reef in the world. Thatch Caye, an all-inclusive package, includes three meals per day, snacks, all local alcoholic and non-alcoholic beverages, boat transfer to and from Dangriga, marine reserve fee, and use of the kayaks, paddle-boards, snorkeling gear, fishing poles, and other island toys.
Sweet Songs Jungle Lodge, located on 20 acres of jungle in Western Belize, provides an intimate setting for nature lovers of all ages. The Macal River is just steps away with the best beach around, where guests can swim, relax, and enjoy unlimited use of tubes and canoes. Adjacent to the resort is an additional 37 acres of tropical broad-leaf forest, where you'll find an extensive system of hiking trails, which continues on to destinations beyond the property, including the Maya archaeological site Xunantunich. After a day of exploring, relax at the treetop infinity pool overlooking the river and beautiful grounds. Sweet Songs all-inclusive package includes three meals per day, local alcoholic and non-alcoholic beverages, hiking trail access, and exclusive use of river tubes, canoes, and bikes.
Package Notes: International airfare to BZE Philip S. W. Goldson International Airport, transfers to and between resorts, tours/excursions, fishing, and premium alcohol are not included in the package. Winner has free rein over the calendar except Easter, Thanksgiving, Christmas, and New Year's weeks. Winner must stay by May 13, 2025.
Thank you: Anonymous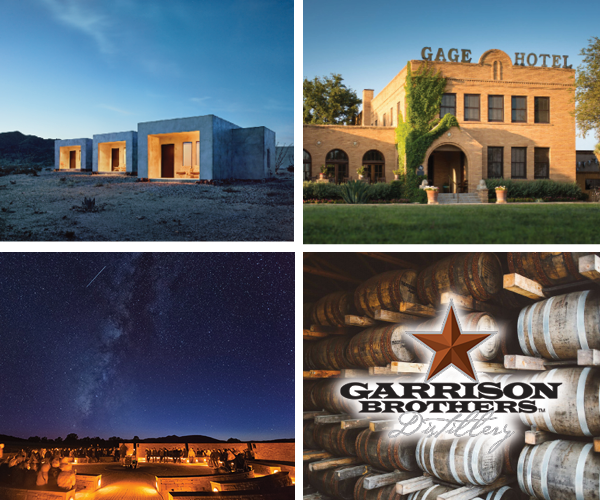 Deep in the Heart of West Texas
Travel to the mountains and desert landscapes of West Texas with stay at Willow House, Gage Hotel, and big open skies with a famous McDonald Observatory Star Party
Explore and stay in the mountains and deserts of West Texas like never before. Your five-night trip starts with a stay in Terlingua at Willow House. You'll be spending three nights in their newest and most luxurious villa, the Proprietor's Casita (opened in 2022). This oasis at the entrance of Big Bend has two bedrooms and two baths, an outdoor shower, large patios and living spaces including a full kitchen, and a private courtyard. While you're staying there, you will have access to the whole property and main house. Your stay also includes one catered dinner featuring authentic interior Mexican cuisine.
Next head to the McDonald Observatory for VIP access for four to their often sold-out Star Parties. This night watching the cosmos comes with priority access into the party, a guided tour of the constellations, and plenty of telescopes to see celestial objects with some of the clearest skies around.
On your final stop, you'll spend two nights at the Gage Hotel, a historic property inspired by Spanish Missions and the Chihuahuan desert. Located in Marathon, enjoy dinner for two at 12 Gage, serving West Texas Cuisine with a gourmet twist. 12 Gage's menu changes seasonally and utilizes high-quality ingredients including locally sourced wild game, beef, fowl, and fresh seafood served with vegetables and herbs grown in their garden.
Garrison Brothers is setting you up with the best tastes as you explore your 290 adventure out west with your very own barrel of bourbon (averages around 30 bottles) for you and your guests to enjoy. You can even go out to their distillery, the first legal whiskey distillery in Texas, to bottle your bourbon, tour the distillery and enjoy lunch outdoors.
Package Includes
• Four tickets to a McDonald Observatory Star Party
• Tecovas gift certificate toward handcrafted boots and large duffle
• Three night stay in the Proprietor's Casita at Willow House with a catered dinner featuring interior Mexican cuisine
• Two nights at the Gage Hotel with dinner for 2 at 12 Gage
• Garrison Brothers small batch barrel (produces ~30 bottles) with lunch, tour and bottling experience for 12 people in Hye, Texas
Package Notes: All stays and star parties are subject to availability. Some blackout dates may apply. Willow House must be redeemed within 12 months of auction date. Black out dates: Thanksgiving, Dec 23-January 4, March 10-26. Star party tickets are for four people, and more can be added for an additional cost.
Thank you: Willow House, McDonald Observatory, Gage Hotel, Tecovas, Garrison Brothers Distillery, 12 Gage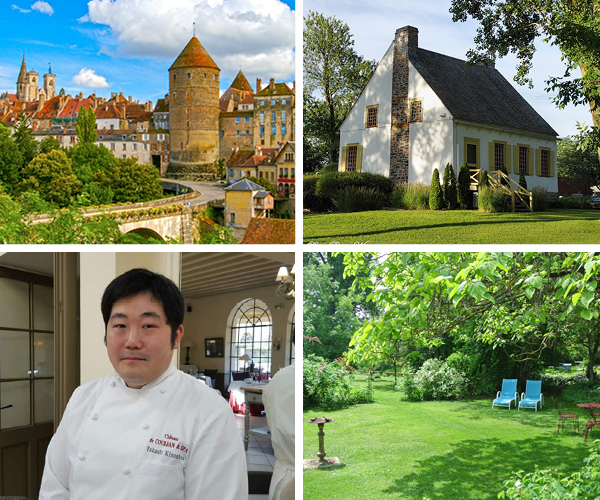 The Mill on the Seine – Burgundy France for 6
Explore the wine and food of Burgundy in a 19th Century restored mill along the Seine River
Burgundy is rich in history, culture and natural beauty, and many fascinating and beautiful sites are within an easy drive, including the medieval towns of Dijon and Beaune, the 12th century Fontenay Abbey, and numerous castles and picturesque villages. You will be very well located for exploring the famous vineyards of the area, since you can tour the wine roads of Beaune and the Cote de Nuits to the south and the region of Champagne a few miles to the north of the house.
Perched on the banks of the Seine river, this beautifully restored 19th century mill is full of charm and character. There are three bedrooms and three bathrooms, along with two living rooms, a spacious kitchen, a gated courtyard and a peaceful garden with a hot tub and sauna.
Indulge in a diverse and exceptional dinner at the restaurant of Chef Takashi Kinoshita, Michelin-starred chef. The restaurant is a 20 minute drive from the Mill.
Your vacation will be off to a bubbly start as you arrive at Maison Valois to find a case of local wine waiting for you. The wine of this area of Burgundy is Crémant, a light and sparkling wine that is very similar to Champagne, its sister region a few miles to the north.
Package Includes
• 7 nights stay for three couples at a 19th century restored mill
• Dinner at Michelin-starred restaurant in a chateau
• Case of local wine delivered to the house
• Booking services
Package Notes: Travel to be booked by May 13, 2025. Must be booked at least 60 days in advance. Reservations are subject to availability. Package items are non-transferable, non-refundable, and may not be resold or donated to another organization.
Thank you: Anonymous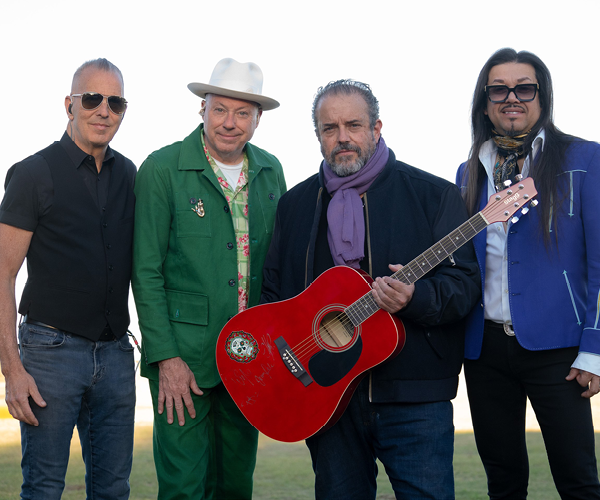 The Mavericks Autographed Stagg Guitar
To commemorate the Paramount's 108th Anniversary Gala and their performance, The Mavericks autographed this beautiful Stagg red dreadnought acoustic guitar
Thank you: Strait Music, The Mavericks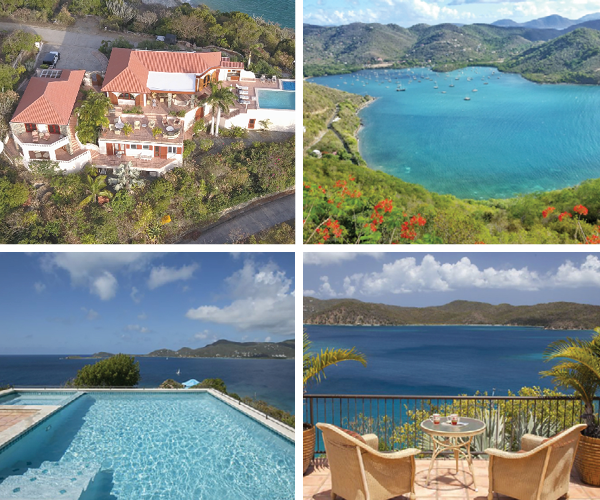 Stunning Villa for 8 in Saint John's
Spend 8 days in Saint John's at Casa Cielo with breathtaking ocean views
Relax by the water on your 8-day trip to Saint John's at Casa Cielo – a breathtaking villa, on the East End of Saint John's. Your spacious, private luxury villa comes with 4 romantic, well-appointed guest suites and 4-½ baths for your seven-night, eight-day retreat. This is the perfect trip for up to 8 people. The 2,000 square feet of decks, patios and lanais gives you a panoramic view of the beaches, sea, animals and ridgelines. With a rambling pool deck and hot tub, you can really unwind while taking in the sites of the ocean. Stroll down to a private beach where you can snorkel in the lovely and well-populated reefs of Hansen Bay. During your stay, enjoy a private in-home massage for two, and then head to Island Cork to stock up on a vast selection of international wines and cheeses.
Package Includes
• 7 nights at Casa Cielo in St. John's for up to 8 people
• In-home massage for two
• Gift certificate to Island Cork to use towards wine & cheese selections
Package Notes: The villa includes 4 bedroom suites with queen beds, 4 en-suite bathrooms, 1 half bath, 4 outdoor showers, swimming pool, hot tub, A/C in bedrooms, luxury linens and towels, high-speed internet, broadband wireless, cable tv, fully-equipped gourmet kitchen, grill, binoculars, beach chairs, beach towels, coolers, and o‑ -street parking. Rental car required. Children 5 years or older only. No smoking in the house. A refundable security deposit is required. Package items are non-transferable, non-refundable, and may not be resold or donated to another organization. Dates are subject to availability and are not valid for Thanksgiving, Christmas, or New Years week. Casa Cielo dates are valid through June 1, 2024.
Thank you: Anonymous
Buy In Event: Dîner À La Français
Be one of twelve people to savor the flavors of this beautiful five-course dining experience with wine from all around the best region of France, along with a special guest musician who will serenade the party nestled in tranquil Spicewood Springs hills
Step foot into the custom built serene home nestled in the Spicewood Springs rolling hills with majestic views overlooking Austin for a five-course dinner inspired by some of the finest French wines. Private Chef Danny Kievit and his team have curated each bite to celebrate the tastes of palette defining wines starting with champagne, exploring the beautiful minerality of both white and red Burgundys, followed by some delicate, sweeter notes of a sauternes to finish the meal. After dinner, step out onto the beautiful veranda for beautiful evening views of Austin with music by Suzanna Choffel in this intimate outdoor concert. Her music has been described as "a unique sound equal parts Beat poetry, smoky soul grooves and indie-pop eccentricity." There are only 12 seats available for Dîner à la Français, and ATX Blackcar will provide transportation for each guest to and from the dinner.
Package Notes: The dinner and tour is scheduled for Tuesday, October 17, 2023. This is a "Buy In" package, so up to 12 individuals may raise their paddle to donate to secure their spot. Tickets may be transferred to someone else in advance of the event with approval by the Paramount.
Thank you: DONATED BY: Classified Wines, Leave It to Kievit, Suzanna Choffel, ATX Blackcar, Anonymous
More about the Wines
Andre Clouet 1911
Although the Grande Marque Champagnes are the most famous, boutique grower Champagnes can deliver a depth, texture, and personality that are unmatched in terms of price-to-quality ratio. André Clouet's exquisite tête de cuvée is one of the best examples. With only 1,911 bottles produced each year, it rivals major producers' top wines at a fraction of the price. The Champagne is derived from 100 percent Pinot Noir from the Grand Cru vineyards of Bouzy. The most recent release contains the vintages of 2002 (50 percent), 1997 (25 percent), and 1995 (25 percent). Complex aromas leap from the glass: freshly baked brioche, red currant, dried pineapple, orange peel, preserved lemon, and white flowers.
Pierre Morey 2012 Corton Charlemagne
The Morey family's origins can be traced back to the sixteenth century in Burgundy and since 1793 in Meursault. Each generation has worked the vineyards and made wine. Pierre established Domaine Pierre Morey in 1971, Pierre Morey is a living legend in Burgundy. He was the régisseur (winemaker and vineyard manager) for the famed Domaine Leflaive starting in 1988 and ending in July of 2008. During his time at this notorious estate, he converted both Domaine Leflaive and his own estate vineyards to biodynamic farming and winemaking starting in 1991 and officially recognized by 1997. He is responsible for producing some of the greatest white wines in the history of Burgundy.
Sylvain Cathiard 2020 Vosne Romanee 1er Cru Reignots
"Do I need to tell you how much I adore Sylvain Cathiard's wines? This is a seriously good quality producer of Vosne-Romanée, one whose star is in the ascendant. These are gloriously silky smooth, complex wines; not just with the top Premier Crus but down to the generic Burgundy. It's the intensity and focus that set Cathiard apart, wines with supreme definition and purity that seduce the palate like a beautiful courtesan. I would love to taste his Grand Crus, but they are incredibly rare and sought-after. This producer comes highly recommended from top to bottom." – Neal Martin, UK wine critic
Extravegance de Doisy Dayne 2007
98 points Wine Advocate
"Delivering 12.0% ABV and 200gms residual sugar, Denis Dubourdieu's luxury Barsac, the 2007 L'Extravagant de Doisy-Daene, does not hold back, born with a lucid golden hue with big fat tears (of joy). The bouquet is very intense but very tight at first, demanding time to unfurl in the glass at its own pleasure: white peach, apricot, orange-blossom and a touch of marmalade with breathtaking definition. The palate is full-bodied with a viscous entry, so pure and caressing with mellifluous honey, apricot and citrus lemon, wonderful delineation on the finish, the thread of acidity interwoven through that powerful finish with the length of an ocean liner. Brilliant." – Robert Parker's Wine Advocate
Comte Liger Belair Echezeaux Grand Cru 2018
"It was evident from Louis-Michel Liger-Belair's first vintage that he was going to be a star. After all he descends from what was once a family with some of the greatest land holdings in Burgundy. But more than that, he's the spiritual successor of Jayer and he owns what is perhaps the second greatest vineyard in all of Burgundy." – Becky Wasserman
Domaine du Comte Liger-Belair is a young domaine started in 2000 by Louis-Michel Liger-Belair, an agricultural engineer and oenologist, with those few parcels of vineyards remaining in family hands. In reality, the domaine is not at all young; Louis-Michel is renewing two hundred years of family tradition dedicated to Burgundy.
The Liger-Belair family settled in Vosne when Louis Liger-Belair, a Napoleonic general, acquired the Chateau of Vosne in 1815. The domaine grew considerably under the general's direction and that of Louis-Charles, his adopted son. Louis-Charles married Ludovie Marey, who was from a well-known Burgundian family that owned vineyards and had been negoçiants since the eighteenth century.
Ch. Margaux Premier Grand Cru Classe 1985
96 points Wine Advocate
"Chateau Margaux remains one of the most compelling, indeed most delicious First Growths. Deeper in color than its peers, there bouquet is vibrant and vivacious with succulent red fruits, date, a touch of iodine and violets and as before, further aeration reveals those classic pencil lead aromas. The palate is exquisitely balanced, focused and powerful and yet brilliant defined with a sublime talcum finish, a hint of exotic fruit on the finish. Divine." – Neal Martin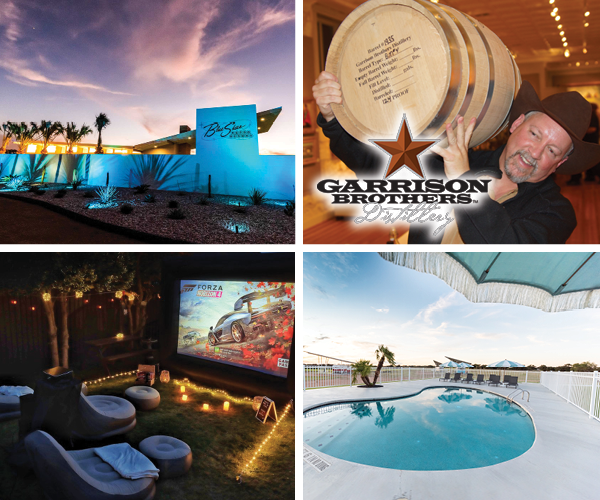 Hill Country Retreat for 12
Relax in the serene Texas Hill Country with a stay at the Blue Skies Retro RV Resort, a private tour of Garrison Brothers Distillery & CL Butaud
Unwind in the breathtaking Texas Hill Country. You'll spend two-nights at the Palm Springs-inspired Blue Skies Retro Resort. Nestled between the Texas Wine Trail and Enchanted Rock, you will have the entire property for you and your 12 guests.
Your stay includes all five 1961 Shasta trailers on the property, each with a cozy living space, separate bathroom suite and large outdoor shower. Explore the property by lounging at the pool, visiting around the outdoor fireplace, or grilling as you take in the sites of the Texas landscapes and night skies. Plus a bottle of Garrison Brothers Small Batch Texas Straight Bourbon and wines from CL Butaud will be stocked in each trailer.
On night one, get ready for a movie night under the stars. Paramount film programmer Stephen Jannise will help curate the perfect film for you and your group to watch on an outdoor screen under the sky with the wood-burning fireplace creating Texas memories that will last a lifetime.
If you can pull yourself away from the retro resort, head to Hye, Texas – the home of the first legal Texas distillery – Garrison Brothers for a private guided tour of the distillery and an opportunity to bottle up bourbon and have lunch. This coveted experience is usually by waitlist only and years long.
Next sip on ultra-premium wines entirely from Texas vineyards at CL Butaud with a private tasting and tour for your entire group of 12. This Austin-owned company is recognized as one of the top Texas Wines by Texas Monthly, Austin Monthly, and the Houston Chronicle – just to name a few.
Package Includes
• Private access, 2-night full property stay for up to 13 guests at Blue Skies Retro Resort
• Outdoor screening at resort curated by Paramount film programmer Stephen Jannise
• One bottle of Garrison Brothers Bourbon in each trailer
• Private Tour of Garrison Brothers Distillery with lunch outside
• Wine tasting at CL Butaud
Package Notes: Blue Skies Retro resort stays must be two-consecutive nights and are subject to availability. CL Butaud tasting must be scheduled in advance. Tastings are subject to availability. Everything must be booked at least 45 days in advance. Transportation is not included.
Thank you: Blue Skies Retro Resort, Garrison Brothers Distillery, CL Butaud